Applying mobile marketing strategies to your e-commerce business is a vital approach you ought to include in case you need to be successful as an e-commerce business owner. In the previous few years, the wide variety of people that use mobile marketing for their e-commerce business has elevated tremendously.
Right now there are about 3.8 billion smartphone users in the world. Furthermore, worldwide mobile e-commerce is projected to attain  $3.56 trillion by the end of 2021 and account for 72.9% of all e-commerce activity by the same year. Considering your mobile audience, There is a better chance of connecting with them, making their customer journey as smooth as possible.
Thus, for an e-commerce company to make the most of its marketing budget, it is important to concentrate a significant part of its efforts on the mobile audience.
To help e-commerce businesses effectively target and reach mobile users, we've listed some effective strategies.
What is Mobile Marketing?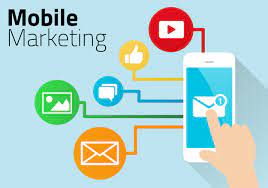 Wordstream defined mobile marketing as the art of marketing your business to appeal to mobile device users. And if done right, mobile marketing provides customers or potential customers using mobile devices with personalized and sensitive information based on time and location on the go.
Mobile marketing involves a multi-channel, marketing strategy aimed at reaching a target audience on their smartphones, tablets, and other mobile devices, via websites, email, SMS and MMS, social media, and apps. It includes all activities related to the design, implementation, and execution of marketing actions.
5 Mobile Marketing Strategies for your e-commerce business
1. Mobile-friendly content.
As an e-commerce business, your website is your most important resource. This is where you do all your business, where your visitor goes to know more about your business and service. Therefore you have to ensure that your content and pages are mobile-friendly. From your product page to your landing page to your online store's checkout must be mobile-friendly.
Ensure you have a robust user experience for mobile users. Also, make sure that your website meets the mobile-friendliness of the requirements of search engines. Therefore your mobile web page's content must fit well on a smartphone screen. It also needs to load quickly on any device and return no mobile-specific errors. 
2. Videos.
Video still remains one of the most engaging content types on the internet today. That's because the engagement level of videos content is always higher than other content. Video content has also proved to perform better than Ads. This is why more and more social media platforms are paying attention to video content.
Mobile users consume more video content at a tremendous rate. What's more, 85% of millennials say they've bought a product after watching a marketing video.
For example, you can use YouTube ads or product explainer clips on your website.  Videos, though, are also a great way to engage with your audience via social media.
Making a video should not be a big deal. You don't really need any high-end software or gadgets to start creating video content; your mobile phone camera should be enough for you to start with.
And if you are camera shy, you can do a mix of PowerPoint presentations with your voice. You can make use of one of the screen recording software like Camtasia and Screentomatic to capture your screen.
3. Display Advertisements
Ads is one of the most traditional and effective ways  to build brand awareness and reengage through display advertisements. There are plenty of mobile opportunities you can leverage with this platform to increase your e-commerce business.
Display ads on Google allow users to target mobile users and display ads to your targeted demographic.  When leveraging display ads, make sure your ads are optimized for mobile devices like androids, phones and tablets.  Ensure you create a concise copy and use clear and relevant images with a call to action button that is easy to click from a touchscreen phone.
You have the option of geotargeting specific location and time. For example if your audience are most active in the evening, you can target them during that time.
Google Ads also allow you to allocate a budget based on devices like smartphones, tablets and desktops for your campaigns and identify varying cost-per-acquisition (CPA) goals for each.
4. Social Media Marketing
Social media marketing is very important when it comes to digital marketing. It is a very important tool to leverage as part of your mobile marketing strategies. The latest social media statistics show that there are 3.78 billion social media users worldwide in 2021 and this number is meant to increase to 4.4 billion in 2025. As more people are accessing the internet through their smartphones, active mobile social media users are estimated to be 4.08billion according to Statista.
Majority of social media users are on their mobile devices, and with platforms like Instagram and Facebook, where a lot of mobile users spend their time, if you're an e-commerce brand looking to reach your mobile audience, social media marketing is a must.
To effectively target your mobile audience on social media you need to:
Identify and define your social media goals
Define your target audience
choose the right social media channel
Create and share content that will resonate with your audience
Make use of Paid Ads
Make use of retargeting strategy
Some content that resonates with social media platforms include:
Videos
Images
testimonials
Infographics
Memes/jokes
live videos via Facebook or Instagram.
5. Personalized campaigns.
Personalization is another mobile marketing strategy used by many businesses to engage with customers on a more personal level. About  65% of smartphone users are more likely to purchase from business  whose mobile websites offer them relevant recommendations on products they might be interested in.
Customers don't like being treated like just another number on the list. Therefore, businesses are engaging with them on a more personal level to form a stronger relationship with them to improve their user experience and ultimately increase revenue. For example, as soon as a customer subscribes to your mailing list, send them a welcome message.
You can run a mobile-friendly email marketing campaign through an email marketing platform like Aweber and Mailchimp,  you can track the users' activity on your website and send personalized product recommendation messages.
6. Text message marketing.
Text messaging is an excellent marketing channel for e-commerce businesses to explore. Although this may look a little bit traditional it works.  You can send a text message about your product and services to millions of customers. One advantage of this method is that your customers don't need the internet to view it. Furthermore, the open rate for text messages is very high because people don't like living text messages unread on their phones. Connecting with someone by text is personal. Keep marketing texts short and personalized, and ensure to offer recipients something of genuine value.  
Conclusion
As the importance of mobile marketing continues to rise every day, e-commerce business needs to leverage their mobile marketing strategies to effectively target their mobile audience.