Combining the best Social management tools with your social media marketing strategy can get you tremendous results like generating more traffic, social media awareness and ultimately get you the best sales.  According to Statista, there are over 3.78 billion people were using social media worldwide, a number projected to increase to almost 4.41 billion in 2025. As this figure increases every day, online marketers and businesses are rushing to take advantage of this golden opportunity to connect with their audience on a large scale to convert them into potential customers.
Flowing from the above, science and technology has made it possible for online marketers to connect with their customers on social media wherever they are in the world. This task can be a tedious one, especially when you are working without a team. But with the introduction of this social media management tool, your work can be much easier and efficient. Don't get me wrong, social media management can't take the place of your social media strategy, but If you combine it can give you a wonderful result.
This article is going to explain some amazing social media management tools that can help you improve your social media marketing campaigns.  I believe after reading this article, you should be able to make informed decisions about which tools will best help improve your social media marketing strategy in 2022.
Top 5  Social Media Management Tools in 2022
1. Buffer
Buffer is a social media management tool that allows social media marketers to share and manage social media content across many platforms. This application easily works with social media platforms like LinkedIn, Facebook, Instagram, Twitter, and other platforms. It comes with an extension for Chrome, Firefox, Opera, and Safari.
The Buffer software allows you to share content instantly. You can share the link across different social networks or schedule it down the queue with a single click. It also integrates with Chrome, WordPress, and other essential tools.
Features
Content curation and management
Detailed social analytics and insights
Team management
Scheduling and publishing posts
Social profile sharing
Profile management
Business planning
Supports iOS and Android
Pricing: Pro – $15/month, Premium $65/month and Business $99/month. It also comes with a free plan that lets you connect up to three accounts.
2. Hootsuite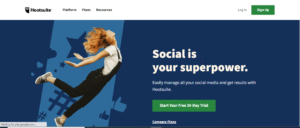 Hootsuite is another social media management tool used by over 15 million people to curate content, manage and track social media activities, schedule posts, and collaborate with teams.
It also helps social media marketers manage all their social media content from a single dashboard. Hootsuite also helps users track engagement and mentions and gives reports in real-time so that you can engage better with your audience.
Features
Post scheduling
Content curation and management
Team collaboration and management
Content promotion
Advanced analytics
social media monitoring
Automatic boosting of top-performing content
App integrations
Security features
Pricing: It comes with a professional $29/month, team $129/month and business $599/month
3. Agorapulse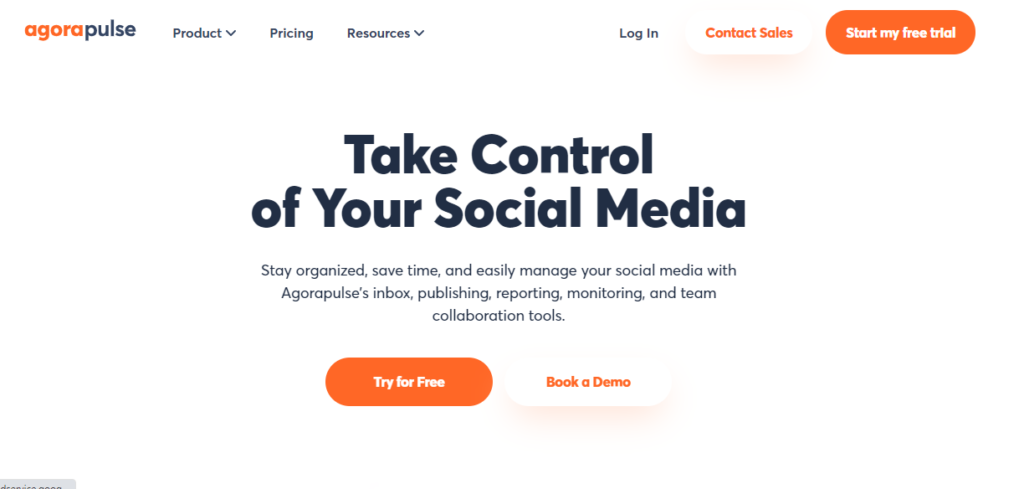 Agorapulse is a social media management tool designed to help agencies and businesses post and monitor their posts across a number of social media platforms. It is used to schedule and respond to social media posts. Furthermore, it can be used to track brand mentions, engage with social media posts, post and schedule content on a single dashboard. It integrates with social media platforms like Facebook, LinkedIn, Twitter, YouTube, and Instagram. There's is also a flexible scheduling tool that allows you to queue, reschedule, or bulk upload posts. Agorapulse often focus on organization and team collaboration. Pricing: 
Free,
$79 per month,
$159 per month,
$399 enterprise plan
4. Sendible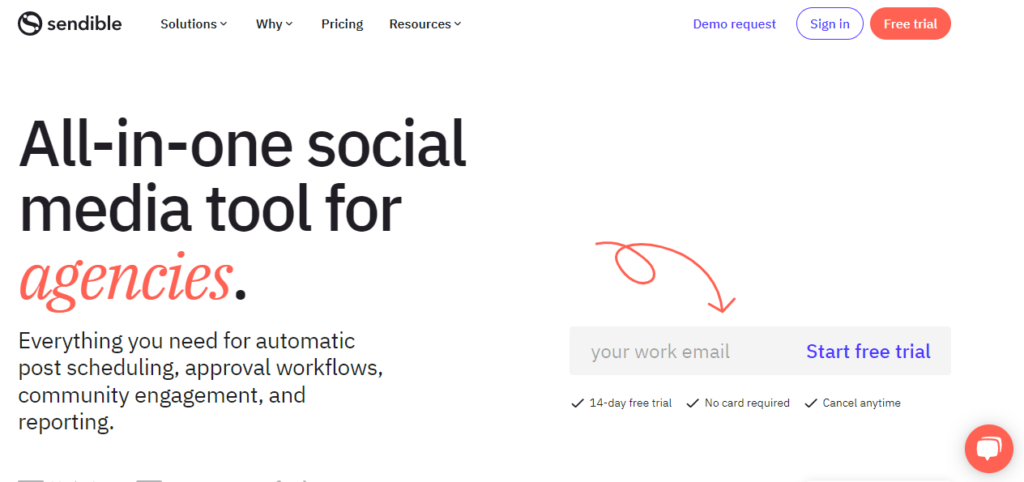 Sendible is used by social media marketers for scheduling, queuing, and managing social media calendars. The software works well with several social media platforms like Facebook, Twitter, Instagram, and other platforms like WordPress, Google Analytics and Canva. With Sendible, you can preview and customize posts on each individual platform, allowing you to optimize the content to display best on each.  Additionally, you can visualize posts on a shared calendar, making it easy to see at a glance where various client content is. And if you're short of content, Sendible provides suggestions. Sendible also offers reporting features by offering easy-to-produce reports and email reporting for clients as required. It supports team collaboration, allowing teams to work on assigned tasks and have content approved before they are scheduled. Features
Team collaboration
Social media calendar
Social media listening
Integrates with different platforms
post suggestions
Pricing: it comes with a price range of $29, $99, $199, $299 per month, and enterprise pricing with a 30-day free trial.
5. CoSchedule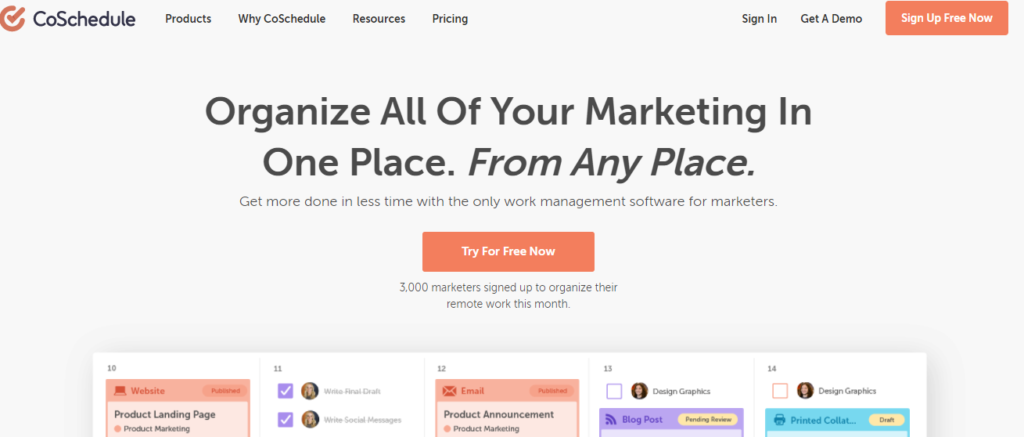 CoSchedule is a management tool used by many online marketers to organize social media content to attract more customers and engagement. This tool helps you organize your content organized. With CoSchedule, you get to build a better relationship with your clients. It supports social media platforms like Facebook, Twitter, LinkedIn, Instagram, Pinterest, WordPress and Hubspot account.
Features
Team collaboration
Campaign analysis
ReQueue to autofill your posting schedule
Bulk scheduling
Content management
Customizable social campaign templates
Reporting and statistics
Pricing: There is a plan that comes at $40, $60,$300/month billed annually and an enterprise plan billed at $1,200/month billed annually
Conclusion
Choosing the best social media management tool depends on your objectives and the nature of your business. There are tools that will resonate well with your business while others might not. When choosing your social media marketing tools, consider the price and scope. But most importantly, choose a tool that will help your business achieve your goals and objectives.