As an online marketer, you have products you want to sell to people, which is why an e-commerce marketplace is a good place for you to start. This is because most e-commerce marketplace already has an already established audience and various marketing strategies and tools to help you sell your product to a wide range of people. So how do you get started with an e-commerce marketplace? How do you choose the best marketplace for your business? Don't worry, you are just in the right place because this article will discuss everything you need to know about the e-commerce marketplace.
What is an E-commerce Online Marketplace
An online marketplace is an e-commerce website that offers many different products from many different vendors. It is a site where third-party sellers can offer goods and services in an online format. The advantage of an e-commerce marketplace is the fact that buyers have the ability to browse and purchase desired items from a large number of different online retail sellers without leaving the website. Most marketplace charges commissions on good sold and some pay a monthly or annual subscription fees, there are some that don't charge a commission, however, they are highly competitive
Some of the most well-known online marketplaces are Facebook Marketplace, Amazon, Jumia, Konga and eBay.
Why Should You Sell On An Ecommerce Marketplace?
1. Access to a large customer base
According to Statista, Jumia had 6.8 million active customers in the last quarter of 2020, while Konga counted some 2.5 million visits worldwide in 2021 of which almost 90 % of the visits were registered in Nigeria. Furthermore, In 2020, the number of visitors to all online marketplaces present in Nigeria was approximately 242.7 million. From these statistics, you will know that the e-commerce marketplace is a huge deal in Nigeria. As a small business owner, you have a limited customer base and the number of people you can market to might not be much because of budget constraints and some other factors.
However, with an e-commerce marketplace, you automatically have access to all of its customers with little to no advertisement and marketing effort on your part. Most online marketplaces like Amazon, Jumia and Konga are already trusted by hundreds of millions of shoppers who check those marketplaces first when they need to buy something. This is a quick and easy way to make sure you extend your general reach to the maximum number of people possible.
2. Acess to their Advertising strategy
As I mentioned above, your budget as a small business owner might be a constraint on your promotional and advertisement effort. But with an online e-commerce marketplace. you have access to their ad strategy. This means that these platforms indirectly market for you. They are big companies that have a large budget to spend on advertising. Anytime they advertise and people click on those ads, there is a big chance that your product will show up on this platform. Marketplace like Jumia runs Google and Facebook ads to drive traffic toward their website. These ads also promote third party products and Jumia bears the cost.
3. Increasing sales
One of the obvious benefits of selling your goods on an online marketplace is to increase sales. The large customer base and advertising strategy used by this e-commerce store coupled with the trust they have built over time attract a lot of buyers to their website.  Statistics show that e-commerce marketplaces were responsible for 62% of global online sales in 2020 and sold $2.67 trillion in products.  According to Business Insider reports, e-Commerce sales in 2022 are predicted to cross $150 billion. Therefore,  expanding to marketplaces is the potential to make more sales and increase your profit.
4. No startup cost
Most e-commerce business requires capital and technicalities to start up. You have to pay for domain and hosting, find someone to build and design your website, and leverage eCommerce tools and artificial intelligence for your business. But with an e-commerce online marketplace, you don't need to have an e-commerce website or advertise to get your product bought. The marketplace will take care of that for you. However, you still need some minimal costs per month to use most e-commerce marketplaces, which include a monthly subscription, listing fees, seller fees, and other transaction fees. But these costs are nothing compared to the amount you will need to spend on designing a website and marketing.
How do online marketplaces work?
The step begins when a customer lands on an e-commerce marketplace like Jumia or Konga on their app or through the web. The user browses and ultimately selects an item(s) via a product page. When the shopper goes to check out on Jumia, their order will be submitted through the Jumia marketplace. Then Jumia passes the order details along to the seller by sending the order details to the seller. The third-party seller sends the customer the product. Or in the case of Jumia, the third seller send the product to Jumia for packaging order fulfilment and shipping.
Strategies for using an online marketplace
1. Choose the right marketplace for your products
There are many online marketplaces out there. Some are international like Amazon and Ali express while some are local like Jumia and Konga. It can be tempting to just pick the first platform that you hear about. However, it is very crucial to pick one that fits your business goals and features as well as your budget. Make sure what you sell fits the platform and that you're reaching the customer base that is best suited to your products. Additionally, you should ensure that the e-commerce marketplace you choose is trusted as well as tech-savvy. Look out for things like customer service efficiency, shopping cart efficiency, payment options, inventory management as well as shipping procedure.
2. Optimize product content.
Your product content. Product titles, descriptions and categories matter a lot when it comes to online marketing.  Giving your product a title, category and description can often influence buyers to make a purchase. The more effort you put into these, the more likely you will see your listings rise to the top of marketplace search results. Take time to find the right keywords by looking at what other marketers are using. Also, create a compelling and persuasive product description and don't forget to use the right category. So when people search for a particular product using some specific keyword and category, your product is likely to pop up. Your images also matter, make sure you use a high-quality image of your product.
3. Automate your pricing.
One of the main factors in a buyer's decision is the price of the product. Note that shoppers often have an array of options for purchasing the same product at different prices within marketplaces. You need to always optimize your pricing based on industry and market trends and that of your competitors. Just a few deductions can be enough to win the sale.  Many sellers use algorithmic re-pricer to automate this process.
Some E-commerce Marketplace
1. Jumia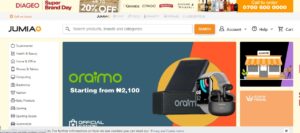 Jumia is one of the most popular e-commerce marketplaces in Nigeria. Statistics show Jumia had 6.8 million active customers in the last quarter of 2020. The platform was established in May 2012, and is Nigeria's version of Amazon. The platform allows you to sell all varieties of products ranging from electronics and computers to food and groceries. To get started, check out the Jumia Marketplace website.
2. Konga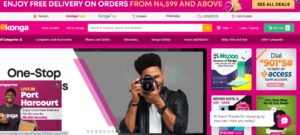 Konga is another of Nigeria's leading online marketplaces where sellers can offer different varieties of products to sell.  The platform counted some 2.5 million visits worldwide in 2021 of which almost 90 % of the visits were registered in Nigeria.  One advantage of Jumia is the fact that it has several warehouses stored up with goods for sale at strategic locations in major cities like Port Harcourt, Lagos, Ibadan, Abuja to ensure fast and easy delivery of goods to customers.
3. Afrimash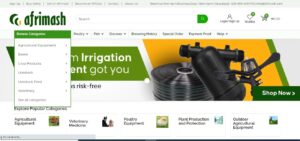 Afrimash is a little bit different from Jumia and Konga but an online marketplace all the same. It is unique in the sense that they deal with agricultural produce. The platform is your number one online marketplace for your agricultural product.  They offer 24/7 customer support, inventory management, order management, packaging and shipping. They deal with farm equipment, machinery, simple farm tools, farm produce, farm inputs, whole livestock and other agro-related resources.
4. Jiji
This site began operation in 2014 and since then, it has been offering a very simple, trouble-free strategy for buying and selling products.
So as a small business owner, you should consider putting your business on this platform for quick and good sales.
How To Start Selling On Jumia
To start selling on jumia you need to
1. Step 1.
Go to Jumia.com
2. Step 2
fill out the registration form
submit the required documents
(a) business registration
(b) bank account details
3. Step 3
complete the dedicated new seller
training
activate your seller centre account to manage your shop
4. Step 4
get visibility from our campaigns/promotions
and insight on best selling products.