Knowing the best CMS platform to host your e-commerce business can take your e-commerce business to the next level. There are different e-commerce CMS business platforms out there with different functions, specifications and prices. Knowing the right one to pick can help you build a flexible and highly-functional e-commerce website that will drive traffic, generate sales and bring in new customers.
There are different CMS platforms out there, but understanding the benefits and setbacks of the different CMS platforms will help you make the right decision when setting up your online shop. That's why this article is going to take you through the top 8 e-commerce platforms that will generate sales and help increase conversion. Choosing the best e-commerce CMS platform depends on your understanding of different platforms, including their pros and cons, prices and functions.
This is why this article is going to discuss some of the best e-commerce platforms focusing on their functions, price and setbacks.
What is a CMS Platform?
An e-commerce content management system (CMS) software enables e-commerce business owners and online stores to create, edit and publish digital website content without writing any code. It also allows users to edit and add things like product page layout, themes, plugins, promotional banners or new website sections to better promote products.
Ideally, web pages are written in HTML, JavaScript, and CSS programming languages. But with a CMS platform, you don't need to learn these languages and write a lot of code.
An e-commerce CMS enabled platform helps online business owners, especially startups launch and set up an online store for selling their products and services. Each individual platform has its specific strength and weakness. But they all seem to offer business owners a unique way to sell their products and services. CMS platforms are specifically for users who have no experience in coding or those that are working with a tight budget.
Features of a ecommerce CMS Platform
Here are some features you need to consider when selecting an e-commerce CMS platform to host your website.
1. SEO-friendly.
SEO is an important factor you have to consider when you are choosing your e-commerce website. An SEO friendly platform can help you rank higher on the Google search engine result page. It can also drive quality traffic and increase conversion on your website. An e-commerce CMS platform should be able to let you manually control your page URL. Make sure you look for platforms that let you adjust your page titles and meta description.
2 Easy to use.
The purpose of a CMS platform is to give you the same experience and design that you will get if a web developer or programmer helps you develop a website. Most experts usually advise business owners to go for websites that are easy to set up and doesn't require a lengthy, arduous onboarding process. This way, users can update content and integrate plugins and change page layouts. They should be easy to install and set up. Things like hosting, security, speed, domain registration of the website should all be taken care of.
3. integrations.
Integration is another useful factor to consider when choosing your platform. Make sure you check how easily the system integrates with other tools and plugins. Your platforms should be able to integrate seamlessly with your existing CRM tools and other marketing tools like email platforms or analytics tools. Also, your platform should be able to install and activate plugins when needed.
4. Cost
Cost also matters when considering an e-commerce based CMS platform. This is because the cost varies with different platforms and the functions they provide. The higher you pay the higher the services and functions available to you on each platform. Ideally, the cost of a domain name and hosting can cost more than $150 manually. However, some give discounts. With Hostgator, you can purchase a domain name and host as low as 2.75 per month. Make sure you research thoroughly on one that will fit your budget and still provide you with the services you need.
5 Best E-commerce Based Platform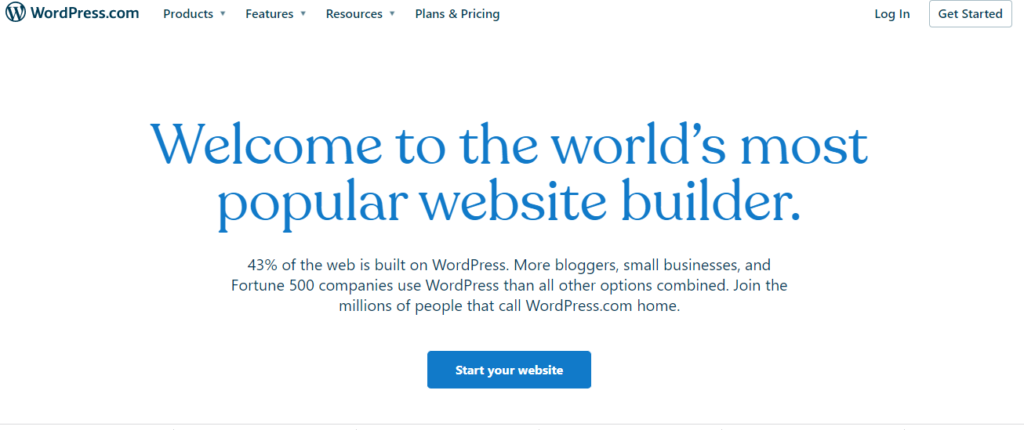 Research shows that about 28% of all e-commerce websites use WordPress as their content management system. This makes WordPress the most popular CMS platform in the world. Although WordPress is not an e-commerce website, you can turn a WordPress website into an e-commerce store using plugins. These plugins include Woocommerce. WordPress comes with various free themes and plugins that you can install to start building your e-commerce website.
Plugins like Woocommerce turns your website into an online store and offers various selections of extensions and themes which are mostly available for free. BigCommerce also offers a WordPress plugin that's easy to integrate and adds an extra layer of convenience. You can also integrate WordPress with popular tools like MailChimp, HubSpot and OptiMonk.
Features
It is user friendly
It comes with a large collection of plugins and themes
Integrate with various payment gateways
It comes with various e-commerce plugins
Integrates with several marketing tools like mailchimp and hubspot
It comes with various SEO extensions
Cons
Plugin and site maintenance can be time-consuming
Costs may vary by domain registration, hosting, and premium plugins and themes
Pricing
WordPress doesn't cost anything to download. However, you will need a domain name and hosting that can range between $10 and $30 and a hosting account to run WordPress from about $7.99/month.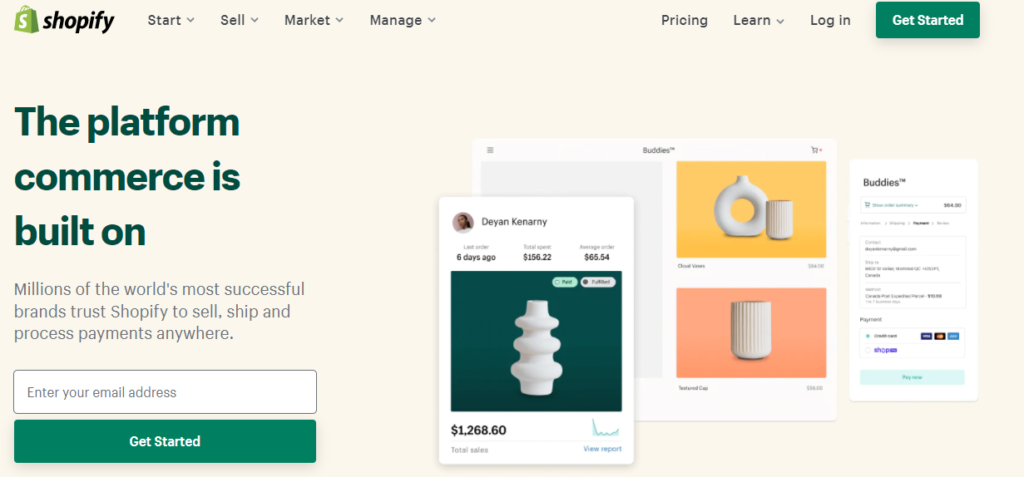 Shopify is another CMS hosted e-commerce platform designed specifically for online retailers to set up and manage an entire store. Shopify is easy and simple to run. however, you don't have much control over its appearance and functionality like the WordPress site. It comes with over 70 themes and approximately 5,700 free and paid apps in Shopify's official store. It is an all-in-one hosted CMS platform which means you don't have to waste your time over buying a domain name and web hosting.
Features
It can easily integrate with desktop, mobile, and in-store sales
Comes with a built-in mobile commerce shopping cart
comes with customizable themes and apps
Allows for social integration
Integrates with a lot of payment oprions
Comes with a 24/7 customer service through email platforms, various social medias, livechat and telephone call.
Comes with a built-in mobile commerce shopping cart
Cons
Limited selection of themes and apps
Most themes on the platform aren't free
Pricing
It comes with a basic plan that goes for $29 a month followed by a more upgraded plan which goes for $79 a month and an Advanced Shopify that goes for $299 a month.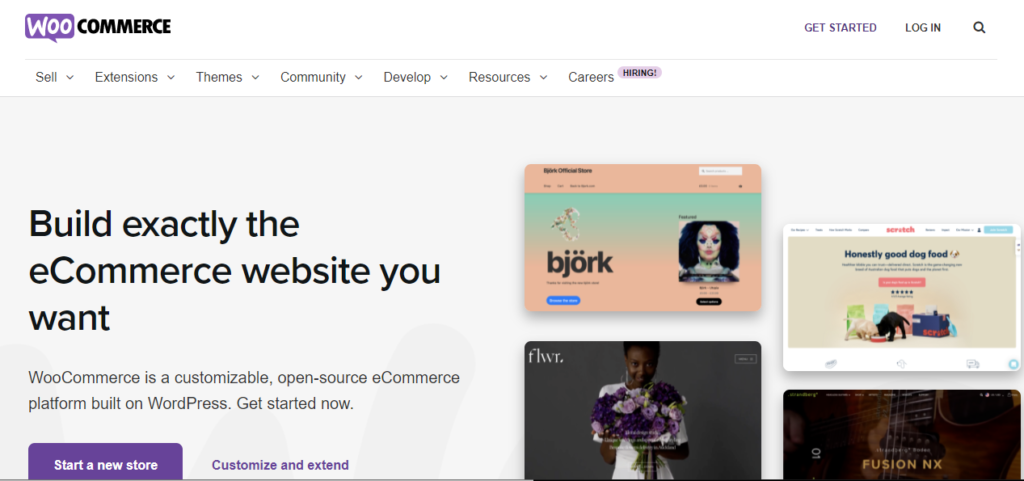 WooCommerce is a plugin on WordPress that is used to turn the WordPress site into an e-commerce store. It is an open-source eCommerce platform that runs on WordPress. It comes with a large number of free extensions and themes that make it attractive to e-commerce store owners. What's more, it can integrate with several payment methods.
Features
It is easy to set up
It has a mobile and user friendly interface.
It is SEO friendly
It has a large number of extensions
You can customize your plugin
Accept majority of payment methods
Comes with a mobile app for iOS and android
Unlimited customization
Cons
Users need a basic knowledge of WordPress and Woocommerce
Users need to pay for hosting and domain separately
Pricing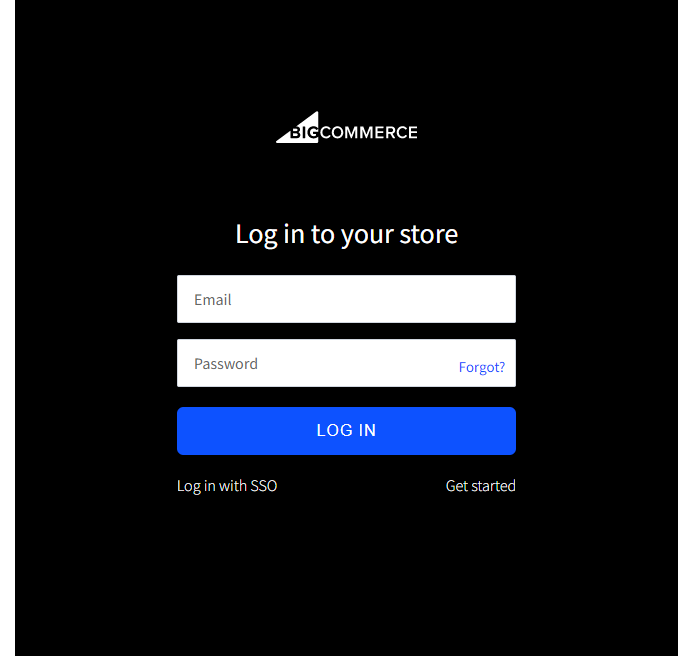 BigCommerce is another CMS based e-commerce platform designed for e-commerce businesses and online marketers. This platform is used by brands like Toyota and Burrow. It comes with a highly flexible website editor and customizable templates. The platform also integrates with e-commerce solutions into their CMS. It is SEO friendly and integrates with social media marketing tools.
Features
It is an all in one website( it takes care of your domain name and web hosting)
Integrates with third-party apps and plugins
Has good support for blogging
WordPress integration
Optimized for mobile device
Integrates with several online payment gateways
Cons
Accessing all its features is quite expensive
Limited extensions available compared to other platforms
Pricing
It comes with a standard plan of $29/month followed by a Plus version that comes at $79.95/month. It also comes with a Pro Plan of $299.95/month and an Enterprise which is often requested for.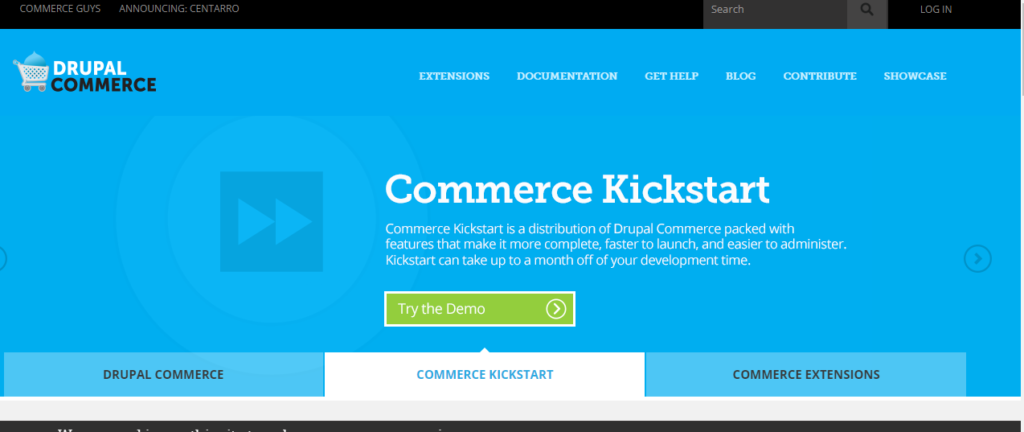 OpenCart is an open-source e-commerce CMS platform that is easy to use and edit. It is user friendly and comes with a multitude of powerful extensions. This makes it easy for users to set up the basic framework of their website quite easily and then add extensions to it. There are also lots of free templates available from third parties, which allow you to create an OpenCart online store on your own.
Features
It comes with over 14,000 extensions
Easily integrates with several payment gateways
Supports several shipping methods
You can add discounts, coupons, popups, and other features through free extensions
Cons
The platform is quite buggy and lack security
Not an ideal choice for larger eCommerce stores
some of their templetes looks outdated
Pricing
Free