A lot of people depend on social media platforms to connect with friends and families, watch videos, make online purchases, and more. Video content dominate social media platforms like Instagram and Facebook because they are attention-grabbing and are more appealing than text or image content. As a result, you need compelling videos to drive audience engagement.
Also, social media platforms are not just for posting content, they can also be a very powerful tool for e-commerce businesses. As a result, you can convert your loyal customers with the right social media videos.
Therefore with the help of some video making tools and with the right strategies, you can create stunning social media videos that drive traffic, generate leads, create audience engagement and generates traffic.
In this blog post,  we are going to look at some of the best tools to help you create beautiful videos for your e-commerce marketing campaigns.
Importance of Video Marketing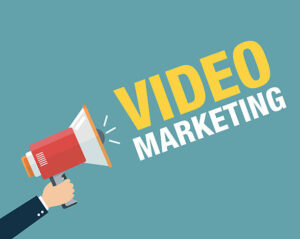 As of 2021, the number of online buyers is over 2 billion, which means one in four people all over the globe is an online shopper. And the majority of these buyers conduct online research before making their purchases.
According to Statista, the YouTube platform has over two billion users. and over one billion hours of YouTube videos are consumed every single day.
Another statistic shows that  85% of businesses are actually using video as a marketing tool.  and over  72% of customers prefer to learn about goods and services via videos.
About 80% of video marketers say video has increased their sales, while 84% of customers say they bought goods or services after watching a video.
Currently, video content will represent 82% of internet traffic, it would only make sense for businesses to take advantage of this medium.
Therefore for marketing to be effective, you need to send your messages to the right place, at the right time on the right channels.
As an e-commerce business owner, your audience might not like consuming lengthy blog articles without pictures. That's why you need to incorporate video content like product review videos, how-tos, live demos, webinars, and the like. This type of content will convey more information about your business and products in the most informative way.
Why you Need to Incorporate A Social Media Video Marketing Strategy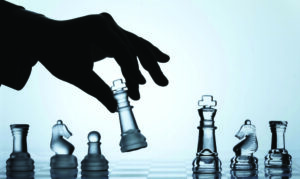 As a business owner especially an e-commerce business, you will realize that your competitors already use social media. And they don't just post content, they also rely on stunning video content to capture an elusive target market.
If you don't want your target audience to go for your competitors, you need to begin implementing a social media video marketing strategy for your e-commerce business.
1. Video builds trust between you and your audience.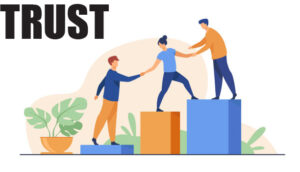 Trust is an important thing to every business. Note that customers will only buy from you if they trust your brand. Videos can help maintain your credibility, establish your authority, and build solid relationships with your clients. To do this you can show what goes on within your company, share testimonials from clients, conduct product reviews as well as how-to guides. You can also conduct interviews and exhibit your companies culture.
This medium fosters trust because you can be transparent and honest. Take a look at what you can do with videos to bolster customer confidence in your brand.
2. Video content converts viewers into loyal customers.
Video informs, educate, persuades, and also entertains, which is why they make sense for converting leads into loyal customers. The right video content can help you capture your target market's attention and make a great first impression.
You can use videos to inform your customers about your products, make announcements, and also show behind-the-scenes footage. When people see a real face behind your business, they will feel more eager to engage with your brand.
3. Mobile users engage more with video content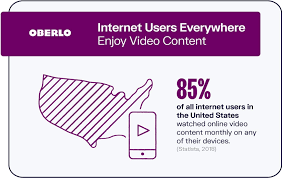 Since the advent of mobile technology, a lot of people can assess the internet anytime and anywhere. There are billions of people with access to a smartphone and also billions that have access to the internet.  With the rise of Bluetooth earbuds, more people watch videos while on the go.
Hence, creating brand videos with a video maker and releasing them on your social media profile will help you generate more leads and entice more prospects for your business.
4. Video content works well with Social media
People are more likely to engage more with video content than read an article on social media like Facebook. Also, social media users are more inclined to give their likes, comments, and shares for video content.
These platforms make it possible for people to like, comment and share videos more than a piece of article. If you want to create leads and convert customers into loyal clients, you need to start churning amazing videos for social media.
Video content works well on platforms like  Youtube, Instagram as well as Facebook.
Tools for Creating Amazing Videos.
1. Adobe Spark
Adobe Spark is a software that allows both web and mobile users to easily create, customize, share videos and other visual content. This cross-platform video-making tool also comes with a professionally designed template for making stunning videos and graphics.
Key Features
Access to multiple themes, fonts, and images
Ready-made customizable templates
It removes watermark from your videos
Pros
It is user friendly and easy to operate
Easy collaboration
Supports 24/7 customer support
You have a wide range  of images, icons, and templates
Pricing
Starter Plan: Free
Team Plan: Approximately $18 per month
Individual Plan: Approximately $9 per month
2. Filmora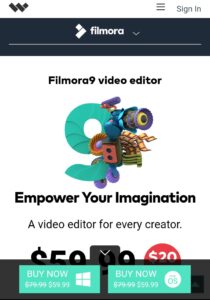 Filmora is another video editing software for beginners. It provides users with different styles, effects, and customization in videos. Also, the software makes it easy for people who want to make and edit quick videos.
Features
It comes with Split-screen, Advanced text editing, Scene detection, Video stabilization.
Tilt-shift, Mosaic (blurriness), colour grading presets, audio equalizer, and 4K resolution editing support.
Layer multiple video clips, GIF support, Noise removal, Audio mixer, Screen Recording, and Audio separation.
Create backgrounds using Chroma key, frame by frame preview, speed control, social import, and many more.
Pricing
Monthly subscription ($7.99 per month).
Annual subscription ($39.99 per month).
Lifetime subscription ($59.99 per month).
3. Animaker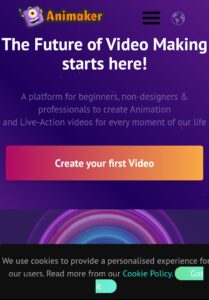 Animaker is a type of video software that is good for creating animated videos, which also helps you create awesome pro-level animated videos with visual elements, background music, and custom characters.
The software comes with an in-app messenger, multi-user collaboration, Animaker whiteboard videos and infographics maker
Advantage
It has pre-designed templates
Option to create vertical videos
Access to icons, charts, maps, and more
Custom font support
Pricing
It has a free  plan, alongside a starter plan that goes for$19 per month and a business of  $39 per month
4. VivaVideo
VivaVideo is a professional video editing app that allows user to personalize, style, and publish content. Apart from that, it has different tools for merging, trimming, reverse, speed control, and splitting.
This allows you to transform your clips and photos into artistic movies. It also comes with several options for filters, music, texts, transitions, themes, and stickers. It has a storyboard style wherein a user can load, edit, and trim clips.
Pros
In-app camera with live effects previews, and various modes for capturing videos
More than 60 effects to choose from with additional downloadable effects
Enhance videos using themes
Merge videos and create montages with storyboarding features
Edit frames within a video
Social media integration
5. Moovly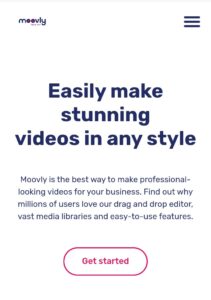 Moovly is a software that enables its users to create promo videos, explainer videos, training videos, and tutorials easily with their customizable templates.  Also, it comes with a video making tool that has multiple types of templates for business, personal, and educational videos.
Moovly provides access to free footage, sounds and images with subtitle options along with a friendly mobile user app, video automation option, custom colours and  fonts and colour removal
It has a free plan, along with a pro plan that goes for $49 per month and a Max Plan for $99 per month
Types of Ecommerce videos
1. About us videos.
An about us tell your clients what your brand is all about. If you remain a faceless name, people will not care about your brand at all.
If you want to make an impact with your target customers, you need to tell your brand's unique story. You can do a Behind the scene, employee close-ups, product manufacturing clips and client testimonials.
2. Product close-up.
Writing about the product, no matter how in-depth, will never bring the same satisfaction as seeing the product up close and personal. Seeing what you want to up-close makes you feel more confident in spending your hard-earned money. If you want your clients to see the details and nuances of your product, a close-up video is a must.
3. Product overview
A product overview offers so much more than a close-up. Apart from showing different angles of the product, you discuss its purpose, features, and pricing structure compared to the others in the market. You can also discuss where you distribute your product so clients know where to buy it
4. Explainer videos.
An explainer video provides explanations about your products or services. They showcase both audio and visual stimuli to explain complex information thoroughly. As a result, your viewers can understand what your brand is all about, removing confusion and mistrust.