Canva is an image and graphics creation tool used by content creators, Social media marketers, digital marketers, bloggers, business owners, students and most professionals. Canva comes with various templates and images that you can edit to create beautiful designs. However, most people face a challenge as the canva free has limited access to certain templates and other premium features like background remover, magic resizing and content scheduling features. This feature is available to Pro subscribers. Meaning that you will have to pay to have access to these exclusive premium features. The good news here is that you can actually get Canva premium features for free without paying. There are a few ways you can do that which I am going to share in this post.
What Is Canva
Canva is a free graphic design tool that allows you to easily create invitations, business cards, flyers, lesson plans, Zoom backgrounds, and more using professionally designed templates.
The platform allows you to upload your own photos and add them to Canva's templates using a drag and drop interface. It's like having a basic version of Photoshop that's free and doesn't require extensive graphics design knowledge to use.
Features of Canva
Video Transitions. Tell better stories with free video transitions. …
Online Video Recorder. Capture every move with our free online video recorder. …
Video Resize.
Canva Live
Text Animations.
Teams
Image Cropper
Add Text To Photo
Content scheduling
Background remover
Magic image resize
6 Ways To Get The Canva Pro for Free
1. Through The Edu Mail Account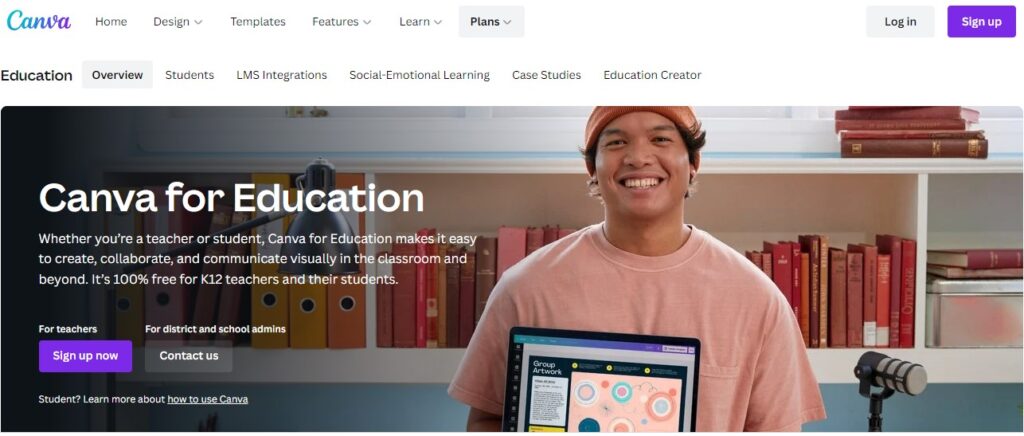 One way to get Canva pro for free is by getting an Edu Mail account. If you have a Working Edu mail account, head to the Canva website and create the account with your Edu mail. Make sure to select the "Teacher" option among six options on the sign-up page. After signing up, Canva will send you a verification code and you have verified your account, head to the canva.com/education website link and click on the "Canva for Education Free" button, and then it automatically converts into a pro account.
2. Through the 30 days' free trial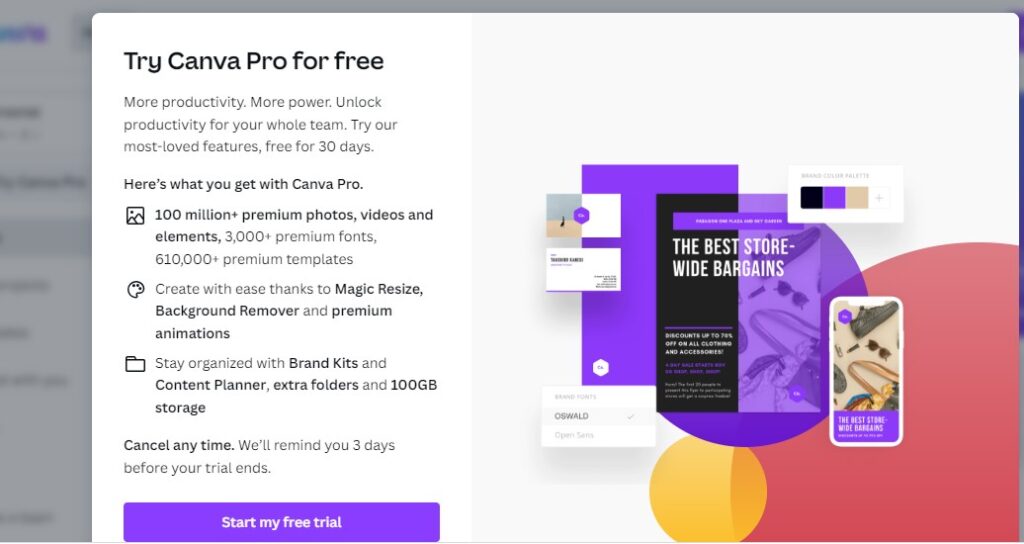 This is another method to get the Canva premium features for free. In this method, you will have to head to the Canva official website and create an account with your normal email ID rather than the Edu mail. Once you have signed up and verified your account, then click the upgrade to Canva pro link on your account. This will direct you to the payment page. On the payment page, you will see the "Try free for 30 days." Here, you will be asked to fill in your credit card details via PayPal, Visa or Master card. Don't worry, you won't be charged for 30 days, just make sure you cancel before the 30 days grace. Another method you can use( although I don't recommend this) is the "Card Generator " credit card or Debit card details which can be found online. This online card generator tool helps you generate random card numbers and their CVV which you can submit to get the Canva pro. If you want another 30 days, then repeat the above steps again and grab the pro trial account. I strongly advise you to use a temporary throwaway email account rather than your own.
3. Through GitHub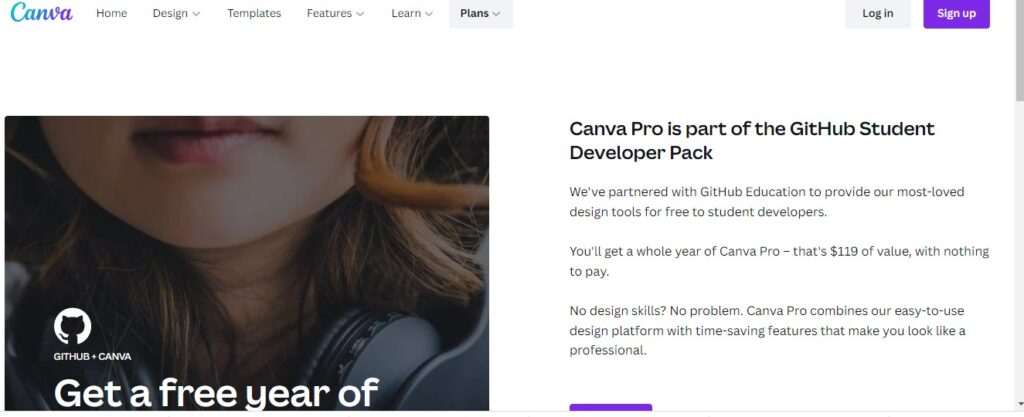 Another way to get Canva pro is through the GitHub Student Developer Pack. The GitHub developer plan provides you with Canva Pro for a period of one year. However, it is exclusively for students who qualify. To sign up for the GitHub Canva pro plan, visit their Canva page HERE and sign up for a new account. If you already have a Canva account, you can still sign up for the offer. Then you need to sign up for the student pack on GitHub HERE.
4. By joining a Canva pro user's Team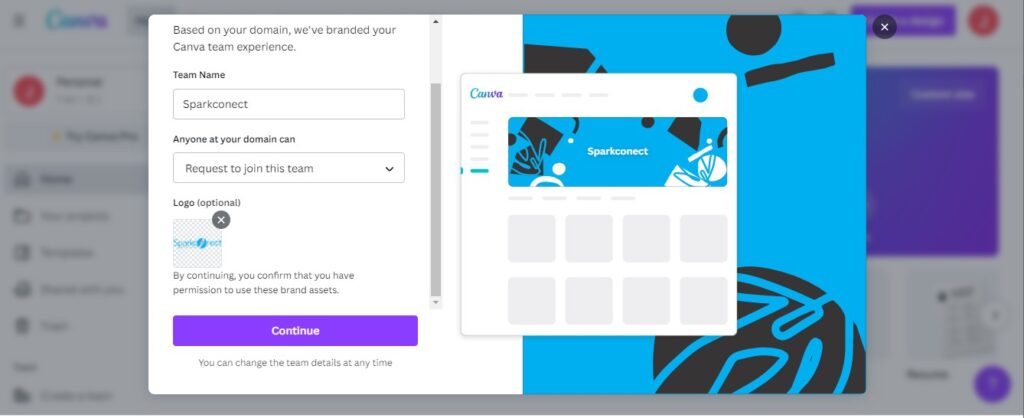 This method involves making use of a Canva feature called Canva Team. If your boss, teacher, professor or other individuals have a Canva Premium Account, they can add many people to their team in Canva Team. They can do this by sharing a specific URL with you or their team members, who can then use the link to join their team and receive a free copy of Canva Pro. To access the Canva Pro, you need to create a Canva account and then click on the team invite link.
5. Through invite link online
This is one of the easiest methods to get Canva pro for free. This method involves you searching for the term "Canva invite link" on Google or other popular search engines. There will be some websites that will be displayed on the search result page. You can check out those on the first page. Alternatively, you can search on YouTube for videos using the same keyword "Canva pro invite link" To get functioning links, filter your results to only include YouTube videos or websites that were uploaded or updated within the last month or week.
To use this method, you have to create a free Canva account using your email. If you already have a Canva account, go ahead and click the invite link on these sites, you will be redirected to your Canva account and asked to confirm your participation in the team or class. Simply confirm your subscription and start using Canva Pro for free. The only disadvantage of this method is that it is only a temporary solution. If the owner of the premium account refuses to make payment, you will no longer have access to a Canva Pro account. Here is a working link you can try out to get a Canva pro premium account
6. Using Canva premium cookies
This method involves you importing the Canva cookies of a Canva pro owner into your Canva free account. Cookies are simple bits of code that store information about users while they are on a website, such as their usernames, browser ids, and so on. Cookies also help save information about the user's account, such as whether or not they have purchased a premium plan.
Netflix is an example of software that uses cookies to determine if a user is an active member or not. To use this method, you need to log in to your Canva account and remove any existing cookies that show you're a free user, and then import Canva Premium Cookies from someone who has purchased a premium membership.
Download the Canva pro cookies from someone that have a premium account or by downloading from various website on Google and then import them into your browser. By importing premium cookies, you're attempting to fool the server into thinking you have a premium account when you don't. This might be a bit technical and difficult and might not work all the time. That's why I wrote it last.
Conclusion
The reason for writing this article is for educational purposes and for people with a low budget who might not be able to afford the Canva pro subscription. This article is to help them access the Canva pro features despite their low budget. Canva is an amazing software that allows users to create amazing designs and graphics. You can skip these steps and go ahead and subscribe to the premium account. Trust me, it is worth it. It gives you control of your own account and you can also invite members to have access to the premium features. But if you can't afford it, just follow one of the above steps to get a Canva premium account.
Enjoy!