Using the best email marketing tool for your small business can make a lot of difference in your online business as well as making you stand out from your competitors.
As your business is growing, you will need to collect the targeted emails of your website visitors to promote your products and services to your customers directly to their email.
Generally, email marketing is an important tool in increasing sales and maintaining good client relationships, grow audiences, and turn subscribers into customers. 
Email marketing, if done correctly, is permission marketing, which means your subscribers have chosen to receive your content, which is an invitation not to be underestimated. 
Making use of these email marketing tools can help you leverage your email marketing strategy. 
These tools have different plans and using the right tool for your business will make a big difference in your online business fortunes.
In this blog post, I am going to discuss the 5 best email marketing tools you can use for your business.
5 Best Email Marketing Tools for Small business 
1. Convertkit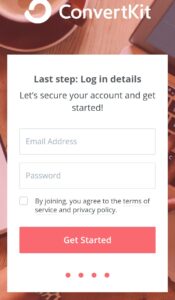 Convertkit is a popular email marketing platform among top bloggers and marketers because it has everything you need for your email marketing and relatively easy to use.
This is a very powerful tool that can help you create and edit beautiful forms and landing pages without having any coding skills.
With the help of Convertkit, you can send emails to subscribers at the right time with the help of automation features.
The platform also comes with a feature that allows you to know the growth of your email list and conversion rate.
It also comes with a segment feature that helps you target the right subscribers along with video tutorials and guides.
Some fearures of Convertkit
It comes with an easy-to-use opt-in form to collect emails.

A ready-made customizable landing page.

Drag and Drop editor to build & edit forms and landing pages.

An in-depth analytics report to track subscribers, conversions, average email open rate, average click rate, and more.
Email automation to send the right emails right person at the right time.
It organizes subscribers through tags and segments.
2.  Moosend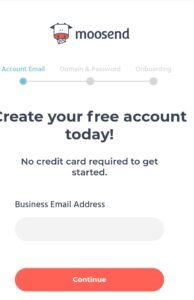 Moosend is another popular email platform that helps build your email list, personalize your messages, and automate tasks for you to focus on customer relations.
They come with an intuitive drag-and-drop email template in their campaign builder.
With Moosend, you can add images, text blocks, social icons, and more to your emails. 
They offer a large variety of email templates with different layouts that are responsive and look great on desktop or mobile.
Moosend pricing depends on the number of subscribers that you have on your email list.
However, they have a free plan for users with subscribers under 1000 which includes sign-up forms, reporting, and the ability to send unlimited emails. 
When you send your email marketing campaigns, Moosend allows you to run spam and delivery tests to ensure that your contact list gets your messages. 
This way, you don't have to worry about your email going into the spam folder.
Key features of Moosend
It provides email newsletter templates that are responsive and customizable to suit your needs

Email marketing automation that allows you to send emails to the right person at the right time

High converting landing pages that help boost your lead generation 

It helps you design a subscription form that matches your website to never miss a lead

It allows you to segment your email list and target your subscribers with tailored content

You can track and monitor campaigns performance through report and analytics
3. Mailchimp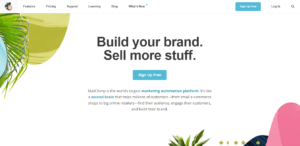 Mailchimp is a free email marketing tool with just some simple features and easy to use interface.
It is a platform that usually works better with online e-commerce stores because it usually creates an ad campaign and automates helpful product follow-ups.
MailChimp marketing automation tool makes sure your email gets to the right people at the right time by targeting customers based on behavior, preference, and previous sales.
It also creates beautiful mobile-friendly landing pages that make it easy for peoples to sign-up for your newsletter and buy any product easily.
MailChimp has the drag and drops designer which creates forms that match your site style.
You can also edit and design landing pages with Mailchimp, although not as good as Convertkit and Aweber.
They also provide advanced analytics that shows you the growth of your business, website activity and monitor sales with revenue reports.
MailChimp perfectly works with tools like WordPress and Shopify etc.
Mailchimp offers a free plan for up to 2,000 contacts and one audience.
Key Features of MailChimp
It has a drag and drop builder that helps build signup forms and landing pages.

 A ready-to-use campaign template.

It groups your subscribers into segments

It comes with a mobile app

to create, edit and send emails from anywhere.

Marketing automation to reach out to people at the right time.
It provides real-time analytics reports to monitor the campaign.
4.

Aweber
Aweber is a professional email marketing tool that helps create and send professional email newsletters to your audience with its powerful email marketing software and automation tool.
It also allows the drag and drop editor to customize your forms and mobile-friendly email templates you can choose from.
Aweber Analytics helps you to know how many people have opened your email, clicked on the link, and visit your website.
Aweber also ensures that your messages are sent directly to your subscriber's inbox, not their spam folder.
It has a feature that segments your email list and ensures targeted emails to your subscribers.
Key Features of Aweber
It comes with a drag-and-drop email creation in minutes.

Offers free templates library to get pre-build forms & landing pages.

 Create email automation to the right subscriber at the right time

Build an analytics report to track email campaign performance.

It allows up to 500 email lists for free.

Integrate with other apps like Zapier, PayPal, Etsy, Shopify, and many more others.

It comes with an Aweber mobile application.
5. GetResponse
GetResponse is an email platform that allows an all-in-one online marketing solution to grow your business. 
It is an email marketing tool that helps grow your email lists, increase conversion and optimize your audience engagement.
Getresponse has some features like Drag-and-Drop, Email Editor, Auto Responder, Advanced Analytics, and A/B Testing.
You can also create high-quality beautiful landing pages with the use of the Drag-and-Drop tool that helps to generate conversion.
You can create responsive landing pages with more than 100 templates that work perfectly on mobile.
They also provide a complete webinar marketing solution that helps you to send invites, reminders, and sales.
Getresponse allows you to manage your individual customers by segments based on data, needs, and action, so you can send them only targeted emails to generate leads.
Key Features of GetResponse
Marketing automation to engage with subscribers.

Drag and drop landing page builder.
Signup forms & popups.
A lead magnet, sales, webinar, list building funnels.
Real-time analytics report.
You can host webinars and collect email attendee's emails.
.