The demand for remote Jobs in Nigeria is on the rise, thanks and no thanks to the Covid 19 pandemic and the advancement of technology. Technology has made it possible for young skilled people to work from anywhere in the world and still connect in real-time with their clients, employees and employers. This has increased the demand for remote jobs by Nigerians, due to the rise in the cost of living in the country. Not only does working remotely help you save unnecessary costs, but it also eliminates long commutes and helps you spend more time with your family.
So what type of remote job can you do in Nigeria? How do you find them? With a lot of job websites out there posting remote jobs, there are some websites too that are posting fake jobs too which has made it a little bit harder for people to identify legit jobs online. This article will research the best remote jobs in Nigeria to make money in 2022.
Top 8 Remote Jobs in Nigeria in 2022
1. Virtual Assistant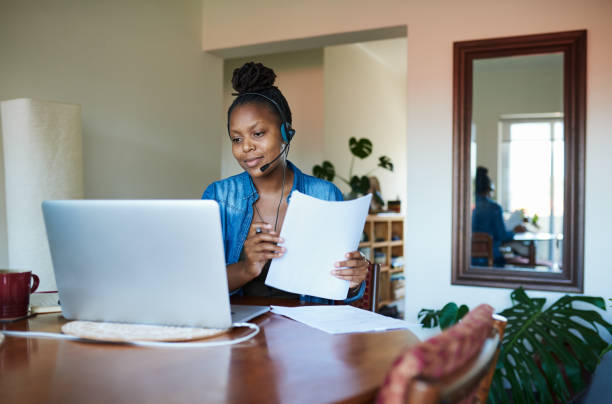 A virtual assistant normally provides remote assistance services for businesses, companies and individuals. They mostly handle administrative, marketing, sales and technical task for the people or company they work for. This might include providing support, handling calls, responding to emails, organizing schedules, handling bookings and ordering food for managers, CEO and other top industry officials.
To become a virtual assistant you can either to go school to pursue some related courses like business, marketing, computer science and other related fields. You can also take online courses and certifications to get experience and recognition. The maximum salary range is between ₦190,800.00 and ₦219,420.00. The average hourly pay of a Virtual Assistant is ₦2,362.50.
2. Graphic Designer
A Graphic designer usually uses graphics, images, visuals and designs to communicate with people or a specific type of audience. They use images, colours, fonts, and text to communicate a message. As a graphic designer, you might be asked to create posters, social media graphics, ads in a magazine, website design, a business logo, postcards or email marketing templates for businesses or companies.
Having a university degree is not necessary to become a remote graphics designer, however, having one will give you an added advantage and knowledge. You can study Fine arts, Pure and Apply Arts and Architecture. The average salary for a Graphic Designer in Nigeria is ₦687483.
3. Content Creator
As a content creator, you can work in many industries because most industries make use of content to display their ideas. A content creator is an individual that creates content and generates content ideas to promote a business, service, or product of a particular brand or business to a specific audience. One way to get started as a remote content creator is through a university degree. You can also take online courses and certifications, and then get an internship to gain relevant experience. The average salary for a Content Writer in Nigeria is ₦737337 according to Payscale.
4. Software Engineer
Starting a career as a software engineer can be a game changer for you in the remaining part of this year. The field is a very lucrative one and can fetch you a lot of income if you have the skills and knowledge. Due to the technical and scientific nature of the career path, you are required to have a formal degree in the field of engineering, computer science and other related fields. You can also take online courses and certifications, and get an internship to help you with industry-based experience. The average salary for a Software Engineer in Nigeria is ₦3020735.
5. Freelance writer
As a freelance writer, your job description might be to create text-based content for clients, businesses and other organizations. A freelance writer can also write short stories on people's blogs and get paid for them. It involves anything that has to do with writing. So if you are a good writer, this might be a good career path for you. You don't really need to specialize in a particular degree to become a writer, however, a degree in communication can be an added advantage. You also need to be proficient with tools like Grammarly, Canva, WordPress, and related writing software. A freelance writer makes about $25.18 per hour and $54,927 per year.
6. Social Media Manager
As a social media manager, you help businesses or organizations manage their social media accounts or platforms. It can be Facebook, Instagram, Linkedin, Twitter, YouTube, or Pinterest depending on the business. They might run ads, post content and analyze data to help I'm[rove and promote the business product or service. Although there is no direct degree program in the university on social media management, however, a degree in marketing, communications, digital marketing and business administration. The average salary for a Social Media Manager in Nigeria is ₦799847.
7. Digital marketer
A digital marketer is a person who uses digital channels like email, social media, paid ads, and content marketing to help businesses sell their product and services. To get started as a digital marketer, you can start taking online courses and certifications. You can also pursue a masters in the field of Digital Marketing or an MBA. Some Universities and colleges are now beginning to offer digital marketing as a program which makes it easier to gain both academic and industry experience. The starting salary of a Digital Marketing Executive in Nigeria may be as low as ₦150,000 monthly but a well-proven and experienced marketer can earn over ₦250,000 per month.
8. Programmer
A programmer deals with codes and figures. If you are good with computer software and coding, you might want to pursue a career in programming. They work on coding, debugging, deploying, and designing projects as well as the back-end development (server-side) of an application. The easiest way to get on track to becoming a programmer is by getting a bachelor's degree in computer science and other tech-related fields. You can also take online courses and certifications and attend booth camps to get an idea of various computer languages. The average salary for a Computer Programmer in Nigeria is ₦500000.
Where Can you look for Remote Jobs in Nigeria?
1.FlexJobs
If you are looking for remote work, you might want to check out this website. The website display there are more than 30000 postings from more than 4000 companies.
2. Upwork
Upwork is another website where job providers and job seekers can connect with each other. The platform helps connect job seekers with a lot of potential companies. On the website, companies publish job posts and choose from a list of applicants to get their work done. Upwork charges a commission against each payment the client makes. The good thing is that getting hired and getting paid is quite easy on this platform.
3. Linkedin
In 2022, setting up a LinkedIn profile is a step in landing the next gig. Linkedin is like an online resume, where you can create a profile and share your experience, certifications, skills and other relevant details with potential employers. With Linkedin, you can receive job alerts based on your profile and the type of work you are looking for.
4. Indeed
On Indeed, you can upload your resume in order to attract the attention of prospective remote employees. Furthermore, you can also create an online profile by optimizing keywords to attract employers.